tehO WINERY
Teho is a boutique winemaking project located in Mendoza, Argentina, where the wines Zaha and Teho are produced. Alejandro Sejanovich and Jeff Mausbach strive to produce limited quantity wines that reflect the unique characteristics of their two small estate vineyards. Bodega Teho's wines represent the search for complexity and balance based on co-fermentation. In order to capture the evolution of aromas, flavors and textures, different varieties are fermented together and different harvest dates are blended in micro-vinifications, small batches of grapes that are harvested and fermented together to produce the most complex and intense wines possible.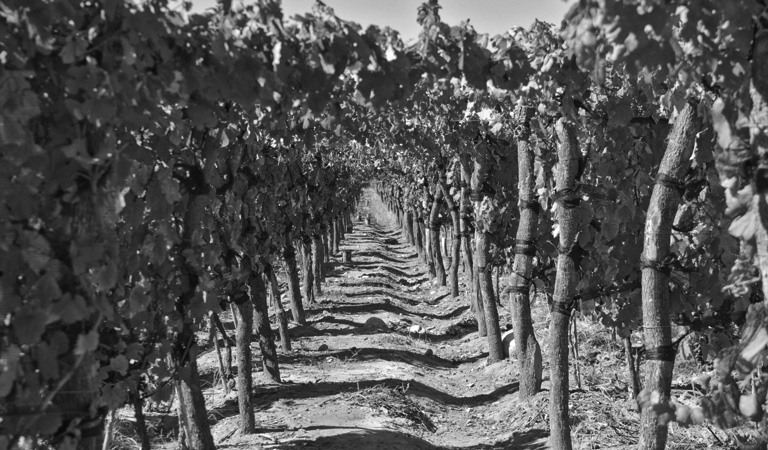 Toko vineyard - which means "Stone" in Huarpe - is located at 4,000' elevation, in Paraje Altamira. The wines of Zaha, which means "heart" in this native Indian language of Mendoza, comes from this vineyard. These wines reflect the heart and soul of the privileged terroir of Paraje Altamira.

This vineyard has a highly diverse soil profile created by alluvial activity that has left a system of multiple patches of different soil profiles throughout the area.

Within the 7.5 hectares of vineyards there are four different soil types. To the north soils are silty; to the south there are areas of coarse-grained sand. There are also some rocky limestone driven soils and silty soils with light gravel distributed throughout the estate.

Each of these soils provides its own range of aromas, flavors and textures to the fruit growing there.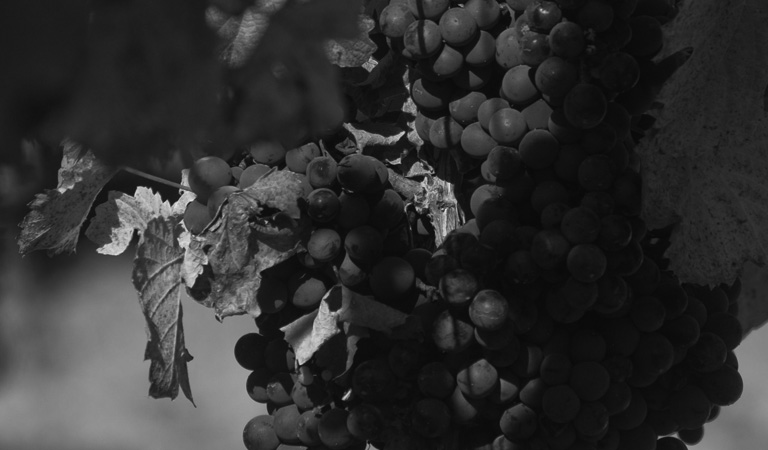 La Consulta is the birthplace of Teho Malbec, the cornerstone of Jeff Mausbach and Alejandro Sejanovich's dream.

After planting the Toko vineyard in Altamira, Alejandro and Jeff put their life savings together to buy a small old vine Malbec vineyard in La Consulta. Although it had been abandoned for a long time, it held a treasure that its new owners would know how to capitalize. They named it "Tomal", which means "ancient" in the native Indian language of Mendoza.

It is an estate planted in 1940, a field blend of old Malbec plants (French grape) that had survived abandonment. There was Malbec, Cabernet Sauvignon, Cabernet Franc, Petit Verdot, Syrah, Merlot, Tempranillo; even some white Semillon grapes.

For six years Alejandro set about recovering this vineyard. After years of abandonment there were at least 30% dead plants. A very extensive "liar" program was implemented, in which shoots from neighboring vines are used to replace dead plants.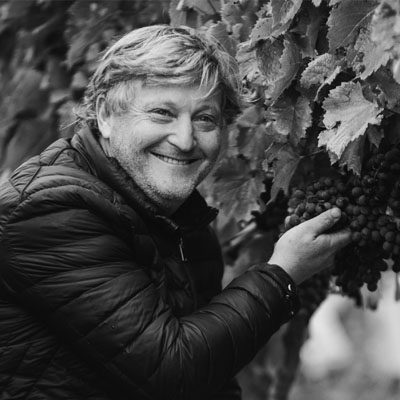 Alejandro Sejanovich
Winemaker / Owner
ALEJANDRO SEJANOVICH is recognized as one of Argentina's most talented and experienced winemakers. Born in Mendoza, he was surrounded by vineyards since childhood, which made him discover his vocation when he was thirteen. Graduated with a Gold Medal in agricultural engineering in Mendoza and with a Masters Degree in enology at the University of Montpellier, Alejandro Sejanovich became part of Catena Zapata's group of winemakers. From the vineyard management of that company, he obtained in-depth knowledge of the great diversity in grape production throughout the country. He gained experience in the knowledge of microclimates and the influence of the soil on the vine and wine behavior. There, together with Alejandro Vigil, from the research department, he discovered areas of Mendoza where new vineyards were planted and where the origin of places such as Altamira and Gualtallary were traced. Alejandro was always paying attention to each vineyard, each plant. From his beginnings at Catena Zapata he knew that the secret behind a great wine lies in the earth, right there, under his feet. It is no surprise that all these years of research and constant work have made him one of the top ten winemakers in South America, according to Decanter Magazine. At harvest time you can see how his hands are stained from his constant contact with the bunches and berries for ripeness and to determine the optimal date for harvesting. Noting is taken for granted. He monitors every detail at each stage of the winemaking process. His greatest virtue lies in the perfect combination among vision, knowledge, hard work and sensitivity. That is Alejandro Sejanovich's trademark.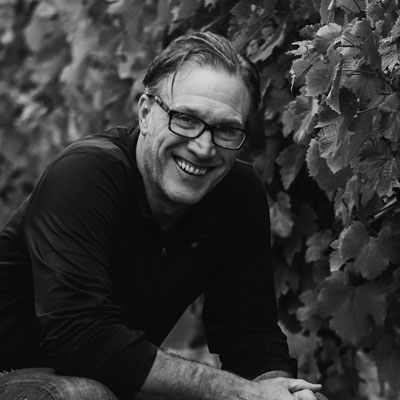 Jeff Mausbauch
Commercial Director / Owner
JEFF MAUSBACH was born in Omaha, a small town in the State of Nebraska, USA. When he was 18 years old, he moved to Chicago where he worked in restaurants in order to pay for his studies. This experience allowed him to discover the symbiotic relationship between food and wine. He then worked as a sommelier for a few years which definitely consolidated his passion for wine. His relationship with Argentina came about through his partner Veronica, whom he met in 1992, when he was staying in a small guesthouse across from the Vatican while he was backpacking across Europe. Their mutual spark later led them on a trip to Southern Italy and the Greek islands. Jeff began postgraduate studies in International Relations at the University of Chicago and Veronica returned to Argentina. Since his first trip to Argentina in 1993, Jeff has been attracted to the culture, people, food and lifestyle of this "Paris-like" place in South America. Jeff and Veronica spent the next five years living between Buenos Aires and Chicago. In 1996, when he finished his studies in the United States, the couple decided to settle permanently in Argentina. His passion for wine made him pursue a career in the emerging Argentine wine export sector. In 1997 Jeff began to work with Nicolas Catena, an icon of the wine industry. At Bodega Catena Zapata he spent the next thirteen years developing international activities, traveling the world to teach about Argentine Malbec. Jeff has become an important ambassador and communicator of Argentine wine in the world.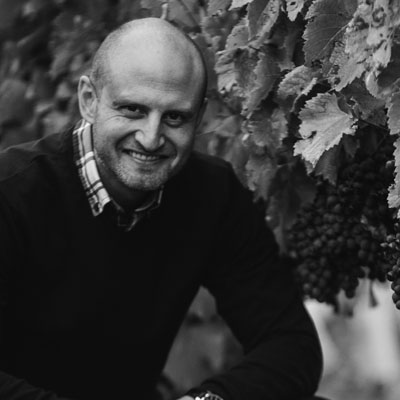 Jorge Crotta
General Manager
JORGE CROTTA born and raised in Mendoza, he graduated with honors from Universidad Nacional de Cuyo, the most important business school in Mendoza. He began his professional career at Salentein, where he worked for three years. Then at Catena Zapata he spent seven years developing international markets. In 2013 he joined Alejandro Sejanovich and Jeff Mausbach's projects as a partner to be part of the management and winemaking team.
THE TREASURE OF OLD VINE MALBEC
Old vine Malbec vineyards are one of the great viticultural treasures of Mendoza viticulture. There are not very many of them, only a few have survived. These vineyards stand out because of their very low yields. The plants produce bunches of tiny berries that raise the level of intensity and concentration, a distinctive feature only achieved by extremely old vineyards. The plant's thick trunks and extensive root system allow it to withstand stress factors throughout the year, helping the plant to retain more natural acidity. This gives the wine freshness, elegance and balance.
TEHO WINES

"Teho" means "blood of the earth" in Huarpe, the language of the native inhabitants of the current province of Mendoza. Teho expresses how these old vines have developed so deep and extensive root systems that they can literally draw blood from the earth, creating these unique and singular wines.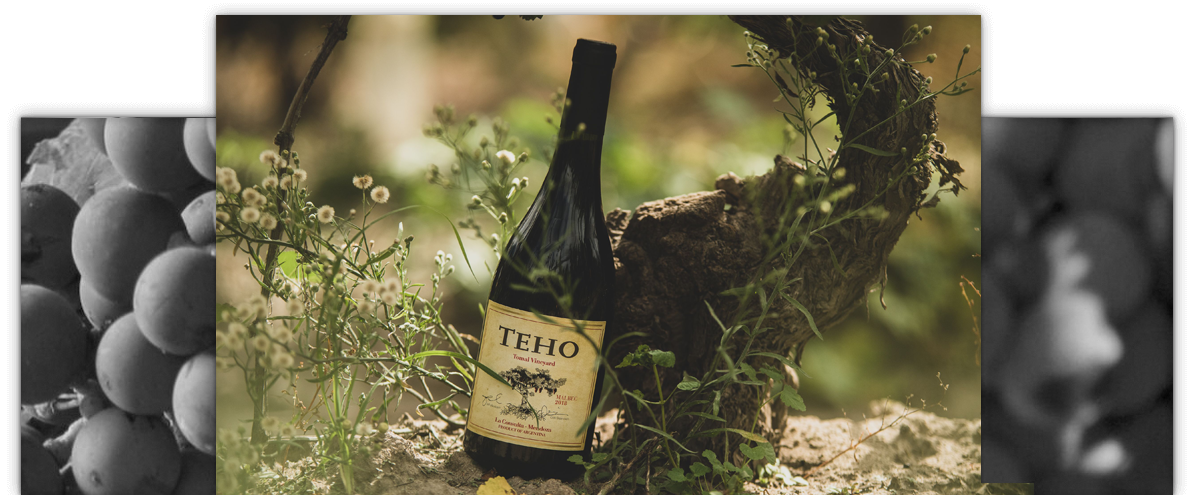 Malbec from old vineyards is a real treasure in Argentina, as there are not many left standing today. The tiny grains that come from the bunches of these plants provide a level of intensity and concentration that is only achieved in old Malbec vineyards. This is why, two to three plants are necessary to produce a single bottle of wine. The old Malbec vineyards are usually called "Field Blend" in Mendoza. Besides Malbec, there is Cabernet Sauvignon, Cabernet Franc, Syrah, Tempranillo, Bonarda and even some Semillon grapes here in Tomal vineyard. All these varieties are harvested and co-fermented to add additional complexity. Teho Malbec is a genuine old vineyard expression of Malbec.
TEHO EL CORTE
For Teho el Corte we separate the Malbec and Cabernet Sauvignon and co-ferment them together, achieving a blend of 60% Malbec and 40% Cabernet Sauvignon. The Malbec contributes to the richness and depth of red fruit flavors, with a soft and ample texture on the palate, while the Cabernet Sauvignon gives an herbaceous character to the aromatic profile and a very pronounced length on the palate. Teho el Corte is a wonderful expression of Malbec and Cabernet Sauvignon.
ZAHA WINES


For Zaha Malbec, we add a bit of Cabernet Franc and another bit of Petit Verdot and thus we increase its complexity. This blend is made as a co-fermentation, in which we blend these varieties and we make them ferment together. This gives us a more complete integration between the different aromas, flavours and texture features that each variety brings. Zaha Malbec is the heart and soul of Paraje Altamira.
ZAHA CABERNET FRANC
Among the specific characteristics of Paraje Altamira, there is one that we especially value, all the vineyards have patches of stone in their soils. This allows us to plant a special variety: Cabernet Franc. Cabernet Franc has a symbiotic relationship with the limestone soil. From its birth place in France it was planted in this kind of soil, on the hills of Saint Emilion. At Paraje Altamira we decided to plant one hectare of Cabernet Franc to capitalize on this soil profile. This wine offers an intense flavor, delicate floral aromas, beautiful freshness and acidity, refined and silky texture; that is, a product of these calcareous soils.
ZAHA EL CORTE
We love Paraje Altamira for its extreme altitude. This means cool days and very cold mountain nights. This results in an exceptionally cool type of wine; a cool climate profile in both Malbec and Cabernet Sauvignon. Zaha el Corte is a co-fermented blend of Malbec and Cabernet Sauvignon. The overall percentage is 70% Malbec and 30% Cabernet Sauvignon. Co-fermentation consists of blending both varieties to ferment them together in the same micro-vinification. This gives us a more complete integration between the different expressions of aroma, flavor and texture that each variety brings to the consumer. With its wonderful herbal notes, turgid acidity and well-defined structure, Zaha el Corte is an excellent expression of Paraje Altamira's Malbec and Cabernet Sauvignon.
THE WINES
The first wine was Zaha Malbec 2010, a Malbec co-fermented with a small proportion of Cabernet Franc and Petit Verdot. It is the result of an elaborate process of micro-vinifications and harvest dates aimed at capturing the subtle differences of complex soil profile in the vineyard – lots of sandy soils, silty soils and stony soils found in this small vineyard. This wine was Malbec co-fermented with Cabernet Franc and Petit Verdot. Bodega Teho and specifically its Zaha wines are undoubtedly a dream come true that was born from Alejandro's passion for Paraje Altamira and the enthusiasm he has been able to pass on to his small team. Different wines that conquer the taste of those who try them. Today, Bodega Teho adds two blends in different proportions with Cabernet Sauvignon, a varietal cabernet franc and two high-end sparkling wines within the two lines of Zaha and Teho.

Contact
Send us your query
ADDRESS
Paraje Altamira, Mendoza, Argentina